Adventure, Nature & Relaxing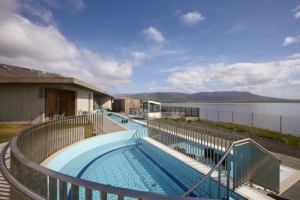 Fontana – Geothermal Baths
(only from Jamboree site)
Price 6.700 ISK Adult – 5.000 ISK Children (10-16 years).
Laugarvatn Fontana is a place where you come to relax and experience authentic Icelandic nature while relaxing in the warm geothermal pools and natural steam rooms. The baths vary in depth, size and temperature and the steam rooms that have been built over natural hot springs that have been used in this purpose since 1929. Fontana is located by a beautiful lake Laugarvatn and you can enjoy the spectacular views from the sauna or the pools.
Three steam rooms, collectively called GUFAN, have been built over a natural hot spring that has been used since 1929. The temperature of the steam varies depending on the temperature of the hot spring and weather, usually between 40°C (104°F) and 50°C (122°F). Humidity is very high in the steam room cabins. Grids in the floor of the steam rooms allow guests to hear and smell the boiling natural hot spring underneath, creating a natural and totally unique experience.
Next to the steam room is YLUR, a Finnish-style sauna. The temperature  is between 80°C (176°F) and 90°C (194°F), with a lower humidity than the steam room having a big window facing the lake of Laugarvatn.
LAUGA,  SÆLA, and VISKA are interconnected outdoor mineral baths that vary in depth, size and temperature. Some areas are suitable for relaxation and others offer space for movement and playful moments. Stone artwork made by Icelandic artist, Erla Thórarinsdóttir, enhance each visitor's experience. VISKA, the hot tub, is built at a slightly higher level than the other baths, providing a panoramic view of the beautiful surroundings while the healthy water nourishes both body and soul.
Completing the ensemble are VATNIÐ and STRÖNDIN — the lake and the beach. Visitors will reach VATNIÐ through a gate. STRÖNDIN has warm black sand, which has been shown to be beneficial for those suffering from arthritis and other joint illnesses. VATNIÐ provides an opportunity to cool down
between visits to GUFAN and YLUR, a temperature shift that is both healthy and strengthening.
Duration:
3 hours
Departures: 16:00 & 19:00
Remember to bring your swimsuit and towels. It´s also possible to rent it at Fontana.
What´s included: 
Bus
Entrance to the Fontana Geothermal Baths
Please note we only have two tours: Tuesday 19th of July at 16:00 and Thursday 21st of July at 19:00.