Classic Tour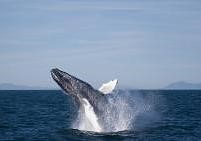 Whale Watching
(only from Reykjavík)
Price 8.000 ISK Adult & 4.500 ISK children (7-15 years)
All aboard for adventure!
Your whale watching adventure begins at Reykjavík´s Old Harbour, just minutes away from the city centre! Our boats offer great comfort, a fantastic interior, large outside viewing decks and safe family environment. The friendly guides, along with the captain and crew, point out where to spot the whales and give interesting information about the different kinds of whales and seabirds you can expect to see.
We proudly follow IceWhale code of conduct to respect & protect the nature of Iceland.
Duration:
3 – 3.5 hours
Departures: 09:00 , 13:00 , 17:00
This tour depends on weather and sightings are not guaranteed. Wireless internet on board. This tour is operated by Special Tours.
What´s included: 
Guided boat tour
Free ticket to try again in case of no sightings!
Educational & Interactive focus
Warm floatable overalls provided for your comfort & safety
Wi-Fi, Café and Souvenirs on board
WC´s on board